THIMUN Qatar Issues for 2019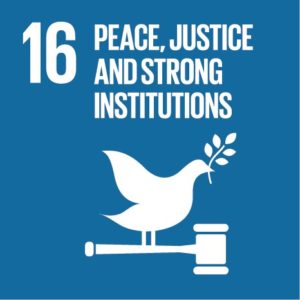 The theme of THIMUN Qatar 2019 is Sustainable Development Goal 16-Peace, Justice and Strong Institutions. All committees have one issue that ties to the conference theme.
THIMUN Qatar is  proud to support the work of the United Nations Office on Drugs and Crime and the Education4Justice (E4J) initiative, and to incorporate many UNODC mandate issues into our 2019 Conference. We will also host our first Commission on Crime Prevention and Criminal Justice (CCPCJ), run with rules of procedure that more closely align to the working of the CCPCJ.
SDG 16 related topics are noted with an asterisk (*).
For UNODC topics, we list below the issue briefs to further develop Education for Justice for all THIMUN Qatar participants.
Issue Briefs
GA2 Strengthening regulations to limit and prevent corruptive practices, including bribery
GA4 The Question of Tokelau and New Zealand
GA5 Implementing the Agenda for Humanity
GA6 Criminal accountability of United Nations and Experts on Missions
GA6 Effective measures to address Cybercrime in all its forms
HRC2 Legal Aid and Access to Justice
HRC2 Effective Implementation of the Nelson Mandela Rules
CCPCJ Effective measures to protect the rights of smuggled migrants
Special Committee on SDG 16 Ensuring Adequate Healthcare in Prisons
Special Committee on SDG 16 Reforming the criminal justice system and developing alternatives to imprisonment 
Special committee on SDG 16 Measures to combat online recruitment of foreign terrorist fighters
GA 1 Disarmament and International Security 
Measures to limit nuclear proliferation in the Middle East
Measures to prohibit the use of bacteriological and chemical weapons
Addressing the nuclear threat on the Korean Peninsula
Prohibition of the development and manufacture of new types of weapons of mass destruction
GA 2 Economic and Financial
Promoting urban and peri-urban agriculture to enhance food security and job promotion
Effective measures to combat the financing of terrorist organisations *
Measures to protect those vulnerable to climate-related extreme events and other economic, social and environmental shocks and disasters
Strengthening regulations to limit and prevent corruptive practices, including bribery *
GA3 Social, Humanitarian and Cultural
Improving access to education during times of conflict.
Measures to address illegal trafficking of cultural heritage *
Improving access for girls to technical, vocational and tertiary education
Combating intolerance, negative stereotyping, stigmatization, incitement to violence based on religion or belief
GA4 Special Political and Decolonization
The situation of the Western Sahara
International cooperation in the peaceful uses of outer space
The question of Tokelau and New Zealand
Measures to improve the human rights situation of the Palestinian People and Other Arabs of the Occupied
Territories
GA5 Administrative and Budgetary
Implementing the Agenda for Humanity
Effective measures to ensure the transparency and accountability of the United Nations *
Improving the United Nations Convention on the Law of the Sea to improve conservation and sustainable use of marine biological diversity
Efforts to coordinate a universal minimum wage in all nations
GA6 Legal
Protection of persons in the event of disaster.
Effective measures to address cybercrime in all its forms *
Criminal accountability of United Nations officials and experts on missions *
Addressing the trafficking in persons for the purpose of removal of organs
Security Council
The Issue of chemicals weapons use in Syria
The United Nations Mission for Justice Support in Haiti (MINUJUSTH)
The Question of Yemen
Addressing the issue of transnational organized crime in order to combat the growth of terrorist groups *
ECOSOC
The role of technology and innovation in curbing the effects of food insecurity / global food shortages
Promoting women's full and effective participation and equal opportunities for leadership at all levels *
Enhancing educational opportunities for youth in areas of conflict, including refugee populations.
Addressing the humanitarian crisis of the Rohingya people
Disarmament Commission
Measures to counter illicit trafficking in firearms in all its aspects *
Establishment of a nuclear-weapon-free zone in the region of the Middle East
Eradication of landmines, cluster munitions and explosive remnants of war
Measures to prevent terrorists from acquiring weapons of mass destruction
Environment Commission
Combating poaching and trafficking of protected species of flora and fauna by organized criminal groups *
Strengthen resilience and adaptive capacity to climate-related hazards
Addressing corruption in the fishing industry to safeguard sustainable fishing stocks *
Measure to promote the conservation of mountain ecosystems, including their biodiversity
Human Rights Council 1
The question of legal aid in promoting access to justice *
Protecting and promoting press freedom
Measures to eradicate slave trading and slave markets
The human rights situation in the Philippines
Human Rights Council 2
Effective implementation of the Nelson Mandela Rules *
Measures to eliminate extrajudicial, summary or arbitrary executions
Promoting policies that enhance the rights of the disabled
The human rights situation in Syria
Special Committee on SDG 16 *
Ensuring adequate access to health care and education in prisons
Reforming the criminal justice system and developing alternatives to imprisonment
Harnessing the role of the media in the fight against corruption
Measures to combat online recruitment of foreign terrorist fighters
French HRC1
La question de l'aide judiciaire dans la promotion de l'accès à la justice
Protéger et promouvoir la liberté de la presse
Des mesures visant à éradiquer le commerce des esclaves
La situation des droits de l'homme aux Philippines
Arabic HRC1
مسألة المساعدة القانوية في تحقيق العدالة
حماية حرية الصحافة
القضاء على تجارة الرقيق
الوضع الإنساني في الفلبين
Commission on Crime Prevention and Criminal Justice (CCPCJ) *
This committee will be run with revised Rules of Procedure, which will be available in late May.
Improving international cooperation to prevent and address corruption
Effective measures to protect the rights of smuggled migrants
International Court of Justice
Cyprus v Turkey
Bolivia v Chile